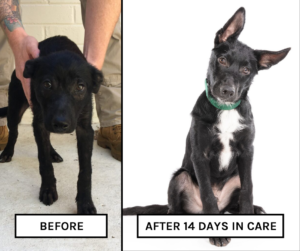 Miracles aren't just for Christmas, with our team working tirelessly throughout the year to transform the lives of the stray and neglected pets who frequently arrive on the doorstep of Sydney Dogs & Cats Home.
Munroe, a little Kelpie puppy, was picked up and brought in by the council ranger in mid-November 2020. A shy, timid boy, Munroe was extremely underweight and suffered from hair loss, likely the result of flea allergy dermatitis. The team estimated Munroe was about 10 weeks of age, and they immediately developed and implemented a treatment plan to help this weak little nugget turn into a thriving puppy.
Munroe was immediately treated with Advocate to kill any fleas and mites – the probable cause of his poor skin condition and hair loss. He was also put on a regime of twice-weekly colloidal oatmeal shampoos. Our vet Michelle also prescribed a special Hill's Pet Nutrition diet to help with his weight and resolution of his skin issues.
The transformation was amazing. In as little as two weeks, Munroe's skin condition resolved and we saw a healthy, shiny coat of fur emerging. He also began to grow, not only putting on much-needed weight but also shooting up several inches in size.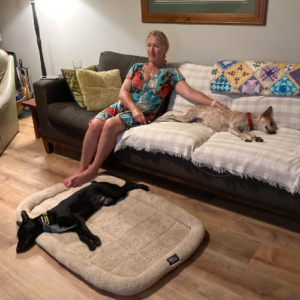 After just one month in our care, Munroe (now named Sunny) was adopted by Robert and his family, just in time for Christmas. Munroe now has a canine companion named Rosie, and we're told they're very happy together, especially when they're exploring the bush. Robert said, "He is such a sweet boy, putting on weight, growing and [has] a really shiny coat."
Sydney Dogs & Cats Home is only able to help transform the lives of abandoned and neglected pets like Munroe thanks to the generous support of our community and our partners.
Taking in nearly 3,000 pets each year, the Home needs the community's support to continue its important, often life-saving work.
We invested well over $300 in Munroe's treatment which included vet checks and vaccinations. Please donate now for pets like Munroe – every little bit helps.
Donate here: https://sydneydogsandcatshome.org/donate/