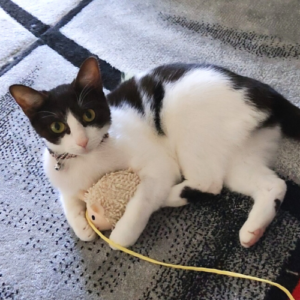 Aries appeared to be a happy, healthy cat when she was surrendered into our care in June. She passed standard health checks with ease and was sent to our adoption partner PETstock, where she could meet potential adopters and find a forever home.
Then, shortly after Aries left the Home, the PETstock team noticed changes in her urine. It was showing blood. We promptly organised to bring Aries back to the Home for an extra health check, when our vet noticed she'd developed a large, fluid-filled swelling on her neck. We tested the fluid and the results suggested she had a growth called a follicular cyst. This is a benign mass that wouldn't normally cause harm, but given its size and location, we knew it could potentially interfere with important structures in the neck if it were to continue growing. Our vet team moved quickly to get Aries into surgery and remove the cyst, making sure not to damage important structures of the neck.
Lab tests confirmed the cyst was gone for good and Aries got the all clear. She recovered with ease at the Home, sporting the most majestic mullet, which had been skilfully shaved for her surgery.
With such a slick hairdo, it didn't take Aries long to find a forever home. She was adopted in early August by Priyanka and Kishore and has taken very well to her new family.
Priyanka tells us:
"Aries is my husband's first pet. I can't even believe that he is taking care of Aries more than me. 
She was bit shy and scared at first, but she started becoming friendly after two weeks. When she wakes up, she needs cuddling. She starts rolling on carpet and asking me to pat her.
Aries loves tuna… Before feeding she starts rubbing her face against my hand (sometime it's hard to give food!). She wants to play after her breakfast and it's a must. She loves her birdie dongle & mouse.
She loves to chill with us on the sofa (but she prefers to keep some distance!). When I am taking a shower, she will sit outside near the bathroom door and start missing me. Sometimes she loves to play by herself.
Aries has her kneading pillow. She loves to do kneading on our body too! I wonder if she can make some donuts for us."
Sounds like the stars have truly aligned for Aries!