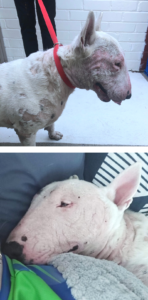 Sumo the senior Bull Terrier was in a sorry state when he came into the Home in June. His coat was patchy and speckled with blotches of inflamed skin, his eyes were cloudy and dry and he walked with a limp.
As you can imagine, our team were very concerned for Sumo's welfare. Veterinary treatment was immediately organised, and Sumo received antibiotics and eye ointment to start him on his journey of  rehabilitation. 
Our dedicated team located Sumo's owners, but sadly they did not wish to reclaim this senior gentleman. With his owner's not coming forward Sumo was transferred into the care of the Home where his transformation continued. 
Our vet team discovered Sumo had a wide array of health problems that required immediate attention. 
He had dry eye and conjunctivitis, in addition to entropion in his right eye, which made his eyes dry and irritated and reduced his vision. He had dermatitis and possible allergic skin disease, causing inflammation of the skin. He also suffered mid dental disease, ear infections and a painful joint condition called chronic cruciate ligament disease and secondary arthritis in both his knees. 
Despite all this, we knew with proper treatment and care, Sumo could go on to enjoy his senior years in comfort.
We fixed up Sumo's ears with antibiotics and performed dental work to reveal a lovely smile. For his dry eye, we administered antibiotic drops, followed by a topical medication to restore tear production. Surgery was then performed to correct his lower lid entropion and stop the hairs on his eyelid from rubbing against his eye.
With a little bit of antibiotics and medicated shampoo, Sumo's skin started to heal, but his fur didn't grow back. We suspect this is due to a previous severe mite infection that permanently damaged his hair follicles. His fur may still be a little patchy, but we still think he's a handsome man!
Unfortunately, we discovered Sumo's joint conditions were too severe for surgery, so ongoing pain medication was prescribed. This will allow him to enjoy life without pain.
With Sumo's health concerns under control, it came time to rehome this unique-looking Bull Terrier. We knew given his big medical history and old age, it would take a while for him to find a foster carer or forever home, and the shelter environment can be a very stressful place. As a result, our animal care team organised to place Sumo into the care of a breed-specific rescue, where he could stay until finding his forever home.
NSW Bull Terrier Rescue took Sumo in with open arms and continued with vet checks and ongoing treatment. He settled in really well, and within five weeks has found a wonderful foster family with a view to adopt! Fingers crossed for Sumo!
Thanks to the generous support of our community and those that donate to the Senior Pet Project, we are able to provide seniors like Sumo, who have often been neglected, with the treatment and care they so justly deserve in their twilight years. If you'd like to contribute, you can donate here.