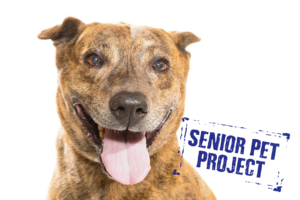 For almost seven months, Sasha has been in the care of Sydney Dogs and Cats Home. This warm sweet nine- year-old Staffy X – that's approximately 61 in human years – was picked up as a stray, and arrived at the Home with her pal Tank, a six-and-half year old Staffy X. Unfortunately due to a change in their owner's circumstances the pair was surrendered into our care.
Having identified that Sasha was an anxious dog, our behavioural team tried to rehome Tank and Sasha together. However while many people were interested in Tank, Sasha was a bit of a wallflower. No one expressed interest in adopting her.
It is also the rare person who can take on two big boisterous dogs at the same time. So after two months the team made the difficult decision to rehome the pair separately. Tank, immediately found a home and not long after so did Sasha.
Within a few days however Sasha was returned as she didn't get along with her new housemates, a pair of cats. Again, day in and day out, this beautiful old girl waited patiently at the Home, and despite her gentle loving nature she continued to be overlooked by potential adopters.
Rather than letting Sasha's anxiety grow with a prolonged stay in the shelter, Sasha was placed into foster care, where she has remained for the past few months. While Sasha is being spoiled rotten and loved very much by her foster family, this is only a temporary arrangement.  Sasha still needs to find her permanent home, and until that time we will continue to look after Sasha's needs, ensuring she is well cared for.
With your support we are looking to raise $100,000 by 30 June to fund the Senior Pet Project for the next 12 months, enabling us to provide ongoing support for the seniors like Sasha who remain in our care that little bit longer. Donate now to support the Senior Pet Project.