Volunteers play an integral role in all aspects of Sydney Dogs and Cats Home's day-to-day operations.  Whether it is helping out in the kennels or cattery, providing administrative support, fundraising, being a foster carer or participating in our events, Sydney Dogs and Cats Home wouldn't exist without their support.  And we are so pleased that our own Peggy Christodoulides has been recognised for her outstanding contribution to the Home.  Peggy was recently presented with a 2018 Banks Volunteer Award.
Peggy has been volunteering at Sydney Dogs and Cats Home since October 2016 and contributes so much to the smooth running of our shelter operations.  A quiet achiever, Peggy is well-known and well-like by the entire team of staff and volunteers.  Peggy is extremely dedicated and is frequently spotted at the shelter doing copious amount of laundry to ensure the animals in care have clean, dry bedding.  She's also been known to coerce her friends and family into helping out with the laundry and washing of food bowls. Sydney Dogs and Cats Home wants to say congratulations and a big thank you to Peggy and all our volunteers.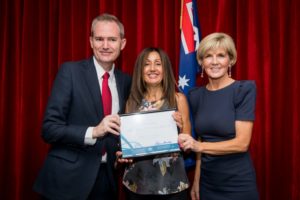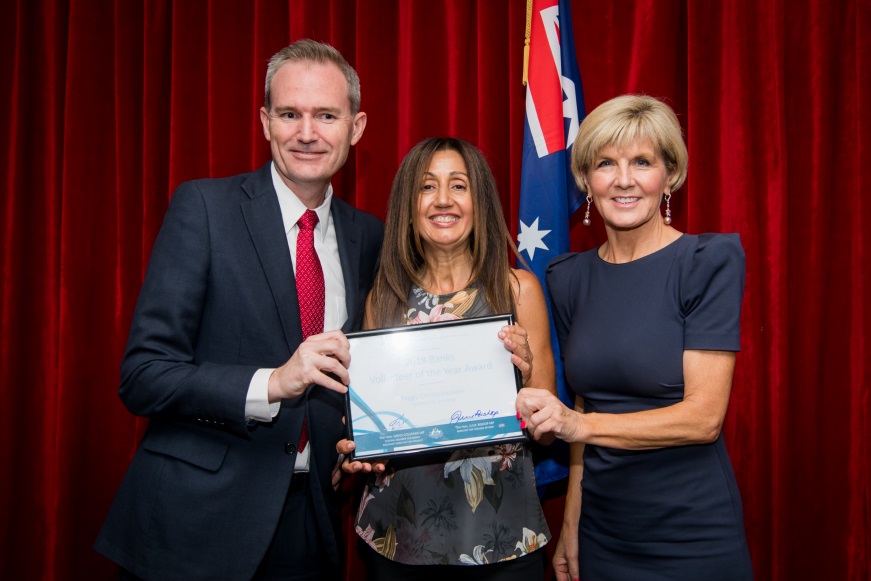 The Hon. David Coleman MP and the Hon. Julie Bishop MP, Minister for Foreign Affairs present Sydney Dogs and Cats Home volunteer Peggy Christodoulides with the 2018 Banks Volunteer Award.