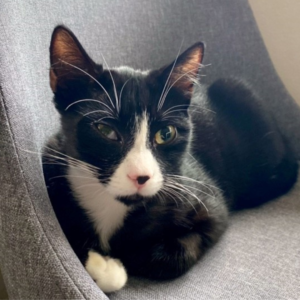 Malabar the cat came into the Home in March this year. At first, he wasn't so sure what was in store for him and was a little unsure of shelter life. Once settled, Malabar turned into a very purry, affectionate and extremely playful cat.
But while Malabar was starting to settle in at his foster home and begin the wait for his forever home, a previous polyp (a benign growth of tissues) in his right ear that wasn't causing him any issues, suddenly began discharging a large amount of fluid making him quite uncomfortable. The vet team took Malabar to examine his polyp and formulate a plan to treat it. But that wasn't the end of the health list for Malabar, he also had a head tilt, a condition that may indicate an underlying health problem, causing imbalance, such as the polyp and he also had a prolapsed third eyelid.
Malabar was given medication and eyedrops for his prolapsed third eyelid and underwent surgery to remove the polyp. After some time recovering in foster care, medication and drops and the dedication and commitment from his foster carers to nurse him back to 100%, Malabar was soon back to his playful, friendly self.
After over 100 days at Sydney Dogs & Cats Home, Malabar finally found his forever home! Malabar now has a home of his own to explore and play in and receives all the love and playtime he deserves with his new family.
It's because of our community of supporters that pets like Malabar can stay in our care for as long as he needs to and receive the treatment needed to ensure he can live his best life!
Published 1 November 2022