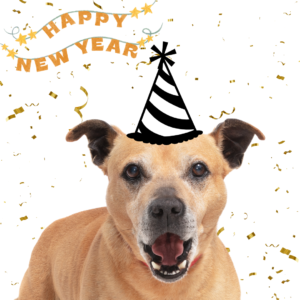 The festive season is typically a time for celebration! With Christmas done and dusted for another year, our sights are turned to New Year's Eve and counting down the clock to midnight. While for most humans, NYE is a night of celebrating and making memories, for pets this can be a very scary night! That's why it is important that you do everything necessary to keep your pets safe. Here are a few tips, to make things easy for you.
Tags and ID
New Year's Eve means there may be more people around than usual, loud noises such as fireworks and other additional stresses and hazards. With many different things happening, sometimes pets can accidentally get out of their home or yard or attempt to get away from all the scary things. To prevent a night of celebration from turning into tears, make sure your pets have an ID and collar with at least your contact details on them in case they have escaped. If someone picks them up, they can contact you. It is also a good reminder to update your pet's microchip details if you haven't since moving house or updating phone numbers. You can easily update your pet's microchip details by calling your local council or visiting the Pet Registry website (link).
Give them a safe space
Keeping your pets safe by giving them a safe space to feel secure can make a world of difference when they are stressed. This can be easily done by:
Keeping them in their safe space such as their kennel, crate or their designated room.
Keeping them inside a secured bedroom and checking on them regularly to ensure they are ok.
Give them things that may distract them such as toys, treats or enrichment items.
Stay close to them and reassure them.
Avoid tying up your pets. This causes a great deal of stress and can cause harm and injury.
Loud Noises and Hazards
We want to ring in the New Year by going all out and decorating to the nines, but sometimes small items such as balloons, party poppers and other knick-knacks can be a choking hazard for pets and can be highly dangerous. Ensuring that you keep your pets away from decorations and clear and clean items up when they have been used to prevent an emergency trip to the vet.
Fireworks often go off throughout the night on NYE and can be loud and scary to pets. Keeping pets in a quiet area of the home, reassuring them when loud noises go off and showering them with love will help them settle and not be so scared. Giving them treats and toys can help and aid as a distraction. Sometimes putting on calming music also helps distract them from the noises going on outside.
If you know your pet has a firework phobia and these tips have previously not eased their distress, consult your local veterinarian.
Pets who have gone walk-about
You've had a great night with friends and family, but your pet is nowhere to be found. The first thing to do is to look in all their favourite hiding places and every nook and cranny you think they may have gotten into to escape the noises. This could be under beds, in wardrobes, under the house, in furniture, garden beds, small crawl spaces and even fireplaces.
Search your street in case they have gotten out. Ask your neighbours if they have seen them and to keep an eye out. If they are still missing, call your local vets, local council and pounds and shelters in case they may have been picked up and taken there.
Post to social media and to lost and found pages so the community can be aware and look out. Don't forget to post when they have been found.
The festive season is a great time to make memories and celebrate with friends and family, but don't forget your pets as well and ensure they feel safe and calm during an often chaotic and noisy time!
We wish everyone a safe and happy New Year!
Published 28th December 2022