Jimmy (previously Dobby) found himself at Sydney Dogs & Cats Home in the thick of the pandemic in 2020. Jimmy, a small Chihuahua, wasn't coping with the stress of a shelter environment and the staff wanted to get him out into a foster home as quickly as possible.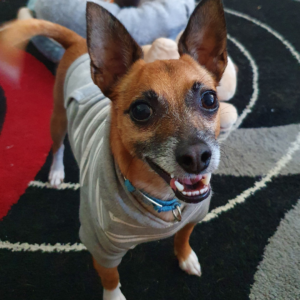 Kerry had just received confirmation that she would be working from home for at least the next few months and took the opportunity to give a rescue dog a break and a chance to flourish away from the shelter until they were adopted. Kerry picked Jimmy up from the Home on her lunch break and he was in her lap making himself at home as soon as Kerry sat down. Kerry was smitten and had texted her partner "we might have a problem here!"
It was clear Jimmy had quite a rough first part of his life and needed training, rehabilitation, time to develop trust and a stable and loving home. But despite the challenges presented, Kerry and her partner Paul decided to adopt him. Kerry says, "not all adoptees are suddenly cured of their trauma once adopted" and they have worked closely with a trainer to acknowledge his behaviour, respect his boundaries and ensure he feels comfortable and safe.
Jimmy is the perfect example that some rescue dogs won't fit into their families' new lives seamlessly and require training, learning to respect boundaries and finding what works for everyone, including the dog. "We've accepted he'll never love the dog park, joining us for coffee or beer or going on holidays; he is happier at home in a predictable environment."
While Jimmy has come a long way from the nervous, frightened and stressed little dog that Kerry first picked up from the Home, he is still learning that the rough life he once experienced is well and truly in the past. Kerry and Paul have committed to providing the loving home he should've received from the beginning and are ensuring that he feels safe and protected. "The best thing we can do for him is to be his advocate, never force him when he clearly feels unsafe, quickly remove him when he feels threatened and continue to develop his trust that we'll protect him and his boundaries."
Giving a rescue animal a second chance can be a very rewarding experience once they've learnt to trust again, know they can relax and that they are safe and loved. Our foster carers go above and beyond to ensure that the pets that come to Sydney Dogs & Cats Home have an environment to unwind, relax, and play and for their little personalities to truly shine and most importantly for some, to trust again.
Kerry and Paul are happy they can provide Jimmy with a safe and loving home he can trust for the last part of his life and hope to foster or adopt another dog sometime in the future.
Published 6th January 2023