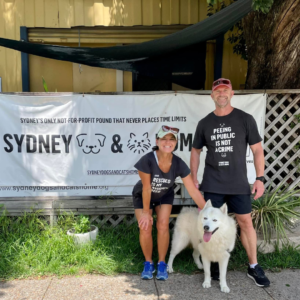 Jayne first became involved in volunteering at Sydney Dogs & Cats Home when she developed a special bond with her neighbour's rescue dog named Bomba. Through her special connection with Bomba, Jayne learnt about animal rescue organisations and felt compelled to be involved in helping animals in need.
Jayne recently celebrated 10 years of volunteering at Sydney Dogs & Cats Home and it's hard to imagine the Home without Jayne and her husband Michael's involvement each and every week. From cleaning kennels, washing dishes, general cleaning, walking dogs, sitting quietly in the kennels keeping dogs company, helping out at events and fostering, Jayne's impact has been felt deeply within the organisation.
Jayne says volunteering at Sydney Dogs & Cats Home is a part of who she is. Her dedication for the past 10 years has not only positively impacted the well-being of the animals, but her unwavering commitment and dedication are felt enormously by the staff and other volunteers at the Home. By building a community through volunteering, Jayne has made long-term friendships with the staff, volunteers and some of the Sydney Dogs & Cats Home adopters.
Jayne's favourite part of volunteering is the feeling she receives. "Volunteering provides a meaningful purpose and also provides me with a sense of contentment and happiness from helping animals in need, assisting the staff and supporting the organisation and most importantly, supporting the community. Because of the level of purpose and meaningfulness, this continues my drive and passion to continue to volunteer, knowing I have contributed towards a positive difference."
Jayne and Michael have given many animals the much-needed break from shelter life with a furcation, where volunteers can give animals a short-term break from the stresses of shelter life and decompress. With so many years of volunteering under her belt, it is no surprise Jayne has had 'foster fails', with 6 foster animals becoming lifelong family members, including 5 kittens and 1 dog.
One of Jayne's proudest initiatives is developing a community program through her work in the Army. The Army Program provided soldiers who had been injured the opportunity as part of their rehabilitation to visit the shelter, spend time with the animals and complete tasks around the shelter grounds. The program provided positive psychosocial attributes and provided the soldiers with a sense of purpose by giving back to the community while completing their physical rehabilitation.
Jayne encourages anyone who is thinking of volunteering at Sydney Dogs & Cats Home to go ahead and do it. "It provides a true sense of giving and purpose, especially with a not-for-profit organisation, where you know every little bit contributes to the bigger picture."
Thank you, Jayne, for all your hard work, dedication and commitment to the animals at Sydney Dogs & Cats Home!