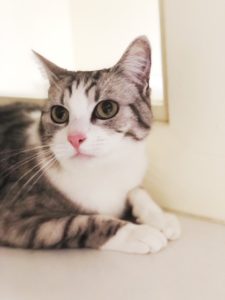 Baby Girl waited in the Sydney Dogs and Cats Home cattery for more than 20 weeks to find her forever home.  Originally adopted from Sydney Dogs and Cats Home as a three-month-old kitten, Baby Girl unfortunately found herself back at the Home due to a change in her adopter's circumstances.
Baby Girl had been living a quiet apartment life in an adult household as the only cat for just over two years.  Not surprisingly finding herself as an adult back in our cattery was a bit overwhelming for her.  However, thanks to the patience and care of our wonderful team of volunteers and staff Baby Girl gradually came out of her shell a little bit each day.  Eventually this shy girl would even pop down from the top shelf of her pod to greet and get a pat from whoever came in to visit her.
Finally, just the right human came along to offer Baby Girl her perfect home.  Baby Girl is one of the 181 felines we have been able to rehome during our January and February adoption drives.
Sadly even in March we still have kittens and cats arriving each day.  If you are interested in adopting one of these precious pets please go to the Adopt Page of our website to see who's still looking for a human to call their own.  If you are unable to adopt please consider a donation to assist us with the costs associated with desexing so many cats and kittens.