Young Gilbert has a face that would make anybody swoon! This Terrier-x boy is curious, friendly and loves playing with toys, thrashing and trashing them around until his heart is content.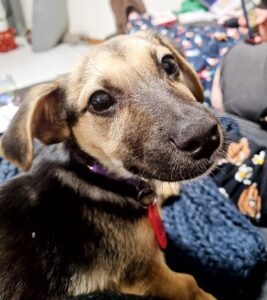 At just six months old, Gilbert arrived at the home with an Angular Limb Deformity (ALD) of his front two legs. ALD causes a pair of bones to not grow in synchrony which results in twisting and bending. It can be caused by injury to the legs at a young age, but commonly it is hereditary.
For Gilbert, both his front legs and toes were pointed outwards. He may have looked like a cute little ballerina, but his legs were causing lameness and discomfort. ALD is quite a complex problem in veterinary orthopaedics, so we arranged for Gilbert to have specialist surgery to give him the best possible outcome.
Gilbert has been recovering from his surgery like a champ in foster care, where he receives monitoring and treatment to ensure he is healing properly. His foster carers tell us he's a very quiet little man who loves human company and enjoys snoozing and going on short walks while he heals.
Gilbert is now looking for the perfect forever home, where his joints can be monitored with regular vet checks. While Gilbert's orthopaedic surgery was successful and he's moving comfortably, there's a chance he may experience lameness once he's fully grown, requiring costly surgical intervention. To be a perfect match, his new family will need to commit to giving Gilbert vet care if he needs treatment in future.
Updated 8 November 2021