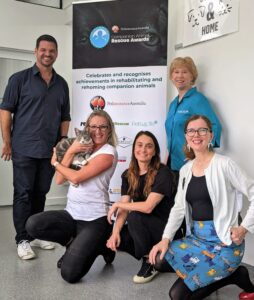 Sydney Dogs & Cats Home were excited to host the Companion Animal Rescue Awards launch event. The awards, now in its 5th year, aim to inspire rescue groups and animal shelters to continue their efforts in saving lives during challenging times, such as during the pandemic and the recent flooding in parts of Australia.
A small celebration was held at the Home's Strathfield shelter with Rescue Awards Founder, Cathy Beer, awards judge Dr Anne Quain, Sydney Dogs & Cats Home General Manager and previous Award finalist, Melissa Penn, and the award sponsors, Josh Wheeler from Ivory Coat and Alisha Saliba from PetRescue.
The award categories include Outstanding Rescue Group, Volunteer of the Year, Outstanding Animal Shelter and new categories including Ivory Coat People's Rescue Story and Ivory Coat Foster Care Story.
This year, the awards have 21 judges from a variety of different backgrounds of expertise, including companion animal welfare, rescue and sheltering, veterinary, animal behaviour, and rehabilitation. Lara Shannon, animal welfare advocate and Host of Channel 10's Pooches at Play returns as an ambassador for the Rescue Awards.
Nominations are open now until the 31st of July 2022 with the finalist to be announced 14th of September and the awards set to take place at the end of the year in November.
Pet adopters can share their story and enter here. Foster Carers can share their story and enter here. Find out more at rescueawards.com.au 
Published on 6th May 2022