At Sydney Dogs & Cats Home, not only do we bear witness to the transformative effects of adoption on lost and abandoned pets, but also the ability of pets enrich the lives of people who adopt.
In the midst of the July 2021 Sydney Covid-19 lockdown, while people were isolated in their homes unable to visit friends and family, many sought comfort and companionship in their pets.
This had normally been the case for Stefania, a Sydney-based woman in her 90s who lived independently with her rescue cat. She loved her cat dearly and enjoyed the sense of responsibility and companionship her cat provided. Sadly, just weeks before a stage 3 Greater Sydney lockdown, Stefania's cat unexpectedly passed away from health complications, leaving Stefania heartbroken and more alone than ever.
After taking some time to grieve, Stefania decided it was time to welcome another rescue into her home. She wanted to give a senior cat a second chance. While many shelters had paused adoptions due to Covid-19 restrictions, the Sydney Dogs & Cats Home adoption process had moved online, so Stefania's granddaughter put in an application on her behalf for a nine-year-old tabby named Abbi. Abbi was looking for a low-energy household with no other pets where she could be the centre of attention, so Stefania's application was a perfect match.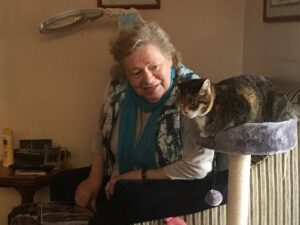 Stefania's family helped her conduct a virtual meet and greet with Abbi and her foster carer, and the decision was made to adopt. Abbi was returned from foster care and one of our Animal Attendants dropped her off at Stefania's home where she was welcomed with open arms. Stefania's son David told the Home, "my mum was delighted to meet [Abbi] and felt she looked more beautiful in real life than in the photos. She had a huge smile on her face."
Abbi settled into her new home within days and has developed a comfortable routine sleeping, exploring, playing and spending time with Stefania. Abbi has a special cat tower next to Stefania's favourite chair where she goes for company and a pat. They've formed a very special bond. As David notes, "she seems to only have eyes for Mum, [but] she is making an effort to like me!"
Abbi has brought a great deal of happiness to Stefania's life and helped her cope with the Covid-19 lockdown. Stefania calls her family regularly to update them on Abbi's escapades. David said, "Usually, Mum says she can't find her anywhere in the house, then suddenly finds her squashed between pillows or in the cupboard sleeping soundly. Mum laughs a lot about what Abbi gets up to… Before Abbi arrived Mum hated lockdown because she had no company. Mum is dealing with lockdown much better now… She doesn't feel so alone."
Published 9 September 2021