Gifts in Will
By choosing to pledge a legacy gift in your Will, no matter the size, your support of our vital lifesaving programs will go directly to where it is needed most in the areas of, but not limited to;
  Medical and Veterinary Support
  Animal Care and Rehabilitation
  Education and Community Support
  Capital works
With legacy gifts taking many different forms; from a specific gift to part or the entirety of your estate. We have created the following booklet to provide you with the information you'll need should you decide to leave a lasting gift in legacy.
You'll also find details on our Legacy Pets Program, which has been established to provide our legacy donors with peace of mind, that their loved pets will be suitably cared for and responsibly rehomed by us.
DOWNLOAD OUR GIFT IN LEGACY INFORMATION BOOKLET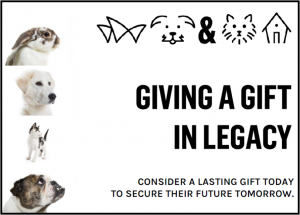 Download our Gift in Legacy Information Booklet
Please note: this document isn't intended as legal advice and would recommend you seeking legal counsel when preparing or updating your Will, as well as discussing your intentions with loved ones.
IN MEMORY GIFTS
Saying goodbye to loved one is never easy; two legged, four legged, feathered or furred. But by choosing to honour them through a donation in memory will celebrate their life, while assisting the pets and people that need our help tomorrow. To make a donation in memory or to create an in memory tribute page click here.
If we can assist with further information or if you wish for a confidential discussion regarding your intentions, please contact our Bequest Team on (02) 9587 9611 or via legacy@sydneydogsandcatshome.org